Oh my, where has this year gone?  Can it really be December already?  This time of year, is one of my favorites for outdoor planters.  Some people call them spruce top planters, some call them porch pots, some even call them greenery planters.  It doesn't matter what you call it as long as you have one in front of your house!
So, a month or so ago I was planning my outdoor porch pot "recipes".  What should I use this year, what do I want my client's planters to look like?  Hmmmm, then I asked myself, I wonder, "what is the history behind winter greenery?"  So I started doing a little research.  Did you know that ancient Romans decorated their homes during the new year using evergreen branches to symbolize life during the winter months due to the everlasting green color of the cut greenery.  Many thought of the evergreens as a symbol of life during the bleak months of winter.  Northern Europeans would bring greenery branches of different varieties into their homes for the everlasting color and scent of the outdoors. (Cited from the link below)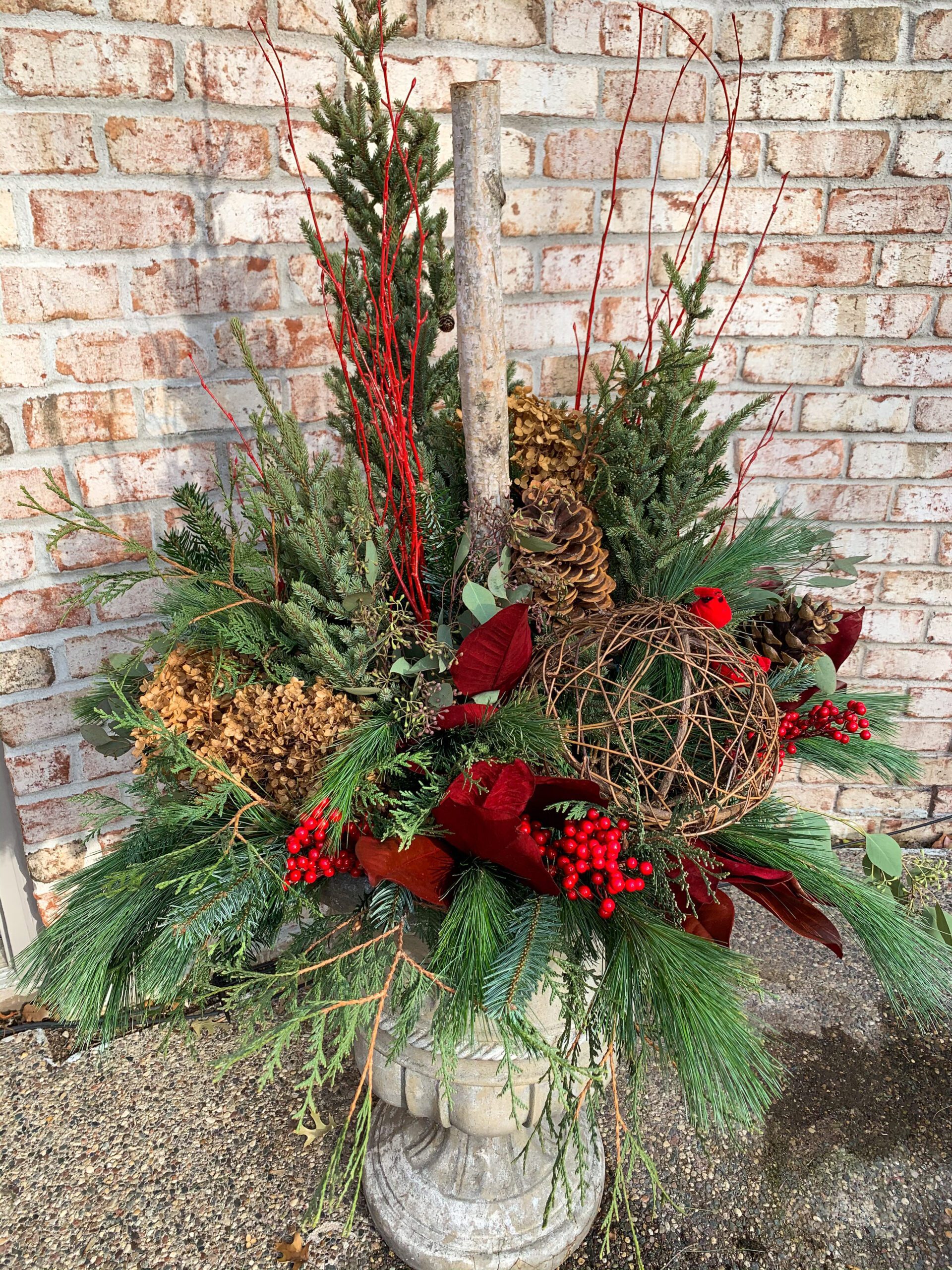 I like that. Living here in Minnesota, we NEED to bring the outside in during these long wintry months.  And who doesn't want to  be greeted by a gorgeous looking planter of greenery or wreath on your front door?  Even if it's just YOU driving up to your home at the end of a long day, what a great way to be greeted.  So, just a few of my nostalgic thoughts as I prepare this blog for you, but I should probably get around to telling you about the planter that I created, see attached picture.  There are so many different greens that you can use and so many different ways to create a planter.  Here is how I do it, if you do it differently, it doesn't mean it's wrong, my way is not the only way, but this is simply how I've chosen to do my planters.  However, keep in  mind, I've done hundreds over the years…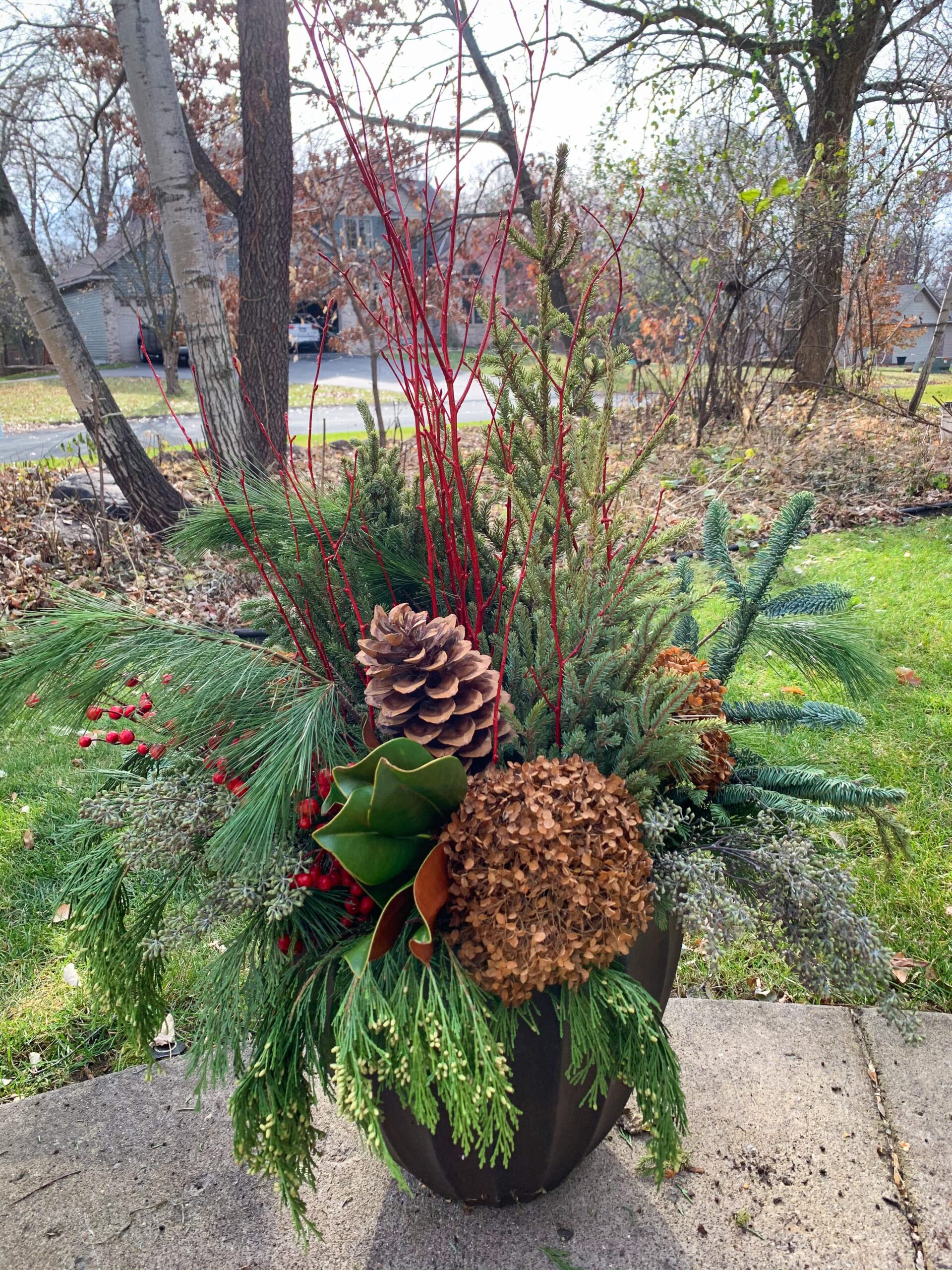 I like to start with left-over summer/fall soil in my pots.  I just use whatever is left in the pots from earlier plantings.  If I have an empty pot or a new client who doesn't have anything in their planter, then I will buy an economical soil and fill the planter.  With the attached photo, you will notice I used three spruce tops, I like to use various sizes, give them a fresh cut at the bottom, trim of lower branches to get a good insertion (save the trimmed off branches to put around the perimeter of your pot).  I love birch, so in some fashion you will find birch poles in my planters.  Next I start to layer greens, use your larger greens first, so Norway pine or large branches of a variety of pines will typically go in next, then I will follow up with cedar.  In this installation coned cedar was my go-to.  Seeded Eucalyptus is next!  Yep you heard me eucalyptus.
Sure it will dry out eventually, but it will still look lovely the majority of the season.  Now, with all of that greenery, let's get some color in there!  You know me, COLOR is our FRIEND!!  I chose the dyed red magnolia, red painted branches, faux red berries and a pair cardinals to top it off!  Disperse your red throughout the look, this will help to break up the "forest" of green.  My client wanted a rustic look so bring in the brown with the red.  Gorgeous rustic winter color combo, for sure!  A grapevine ball placed slightly off center to not make a "stop-sign" to your eye right in the front of the planter.  Then I added in a couple sugar cones, and wha-la!  We've got a winter planter!
So, I hope that is just what you may have needed to get out doors today and put some wintry greens into your porch pot for a welcoming sight to all who enter your home.  Don't forget window boxes, wreaths, whatever it takes to remind you of "the richeness" of life that started with our ancestors in the ancient days.   Tis the season for winter here in lovely Minnesota.  Go "green"!  Green-it-up, my friends!  Yay green!  Okay, enough of that, just get some greens and design away!  Have a blessed day.
"It's not easy being green",
HUGS, Georgia
Cited Link: Always The Holidays