Develop Local Partnerships
Do you know the local restaurant in your area?  Remember those places that were full every day? Check if they have delivery and/or curbside pick-up. If they do, it's a great start to developing a local business partnership.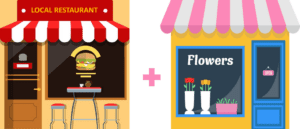 You have a great reputation so people are comfortable referring you.
Network and meet other business owners.
To get the ball rolling, offer to share their business cards or promotional flyers with your customer delivery orders. People will like that local businesses are helping each other out. By getting some of your customers to help another local business, they'll be inclined to return the favor.
If you don't cultivate these relationships, your competition will.
IDEA:
Take the first step and ask a local restaurant if they would give a flower with each food order. Simply give them a bucket of flowers and tag every stem with a business card, or a note that has your contact information, #SpreadSmileswithFlowers and let them know you are open for delivery and curbside pick-up.
How delighted would you be to get a flower with a food order? This is a relatively inexpensive way to spread smiles and create awareness for your business.
When you create business partnerships, you and another business introduce your products/services to new customers.
How many new businesses will you target today?
Until next time…